If You Dont Like Mondays, Put Everything In The Day And Get it Behind You, Then The Rest Of The Week Will Be Great!!
So how do your Mondays begin, let start with linking up your favorite post, meatless Monday recipe, new craft or a funny quote, share the last summer Holiday!!
We all have things that inspire us whether it is a craft a recipe or remodel job. This week I am inspired by new writers and I have been sharing one in the past Wordless Wednesdays, her name is Leah Ovieda and I invite you to check out the books she has written for young girls to empower them, teach them about self defense and positive change. Visit the website here: http://morethanagirl.webs.com/
Joining with The Inspire Me Monday Community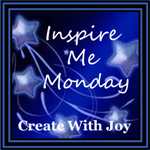 Follow me in some way, Twitter, Facebook, G+ and Pinterest, I will visit and comment when you leave me a comment! That's how we will start our Monday!!