Good Morning and Happy Cinco D Mayo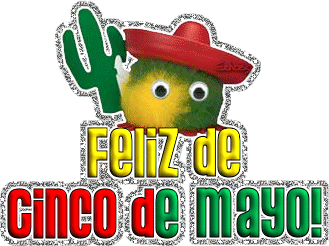 Latinos have fought in all of America's wars, beginning with the Revolutionary War. Many Latinos are fighting and dying for our country today in Iraq, just as several of their ancestors fought for freedom in Mexico over a century ago.
Joe Baca
We will be having either my Home Made Enchiladas or Crisps Tacos, and I have included my recipe for these yummy beef Enchiladas here My son already made his recipe for Chicken Chili Verda so that the wonderful spices can mingle to taste better on day 2 and will be served with warm tortillas.They are wonderful over eggs!!
And Heres a Little Dog That is Not Happy To Wake Up!!!
Linking to Monday For Fun
And please don't forget to enter or share the Mothers Day Giveaway with over $600.00 in Prizes, here's the link to Read more 
If your having a Giveaway On Your Blog I Welcome You To Add To The List that is currently on our Motherdays Day Giveaway and 12 other blogs.

Have a wonderful Week!