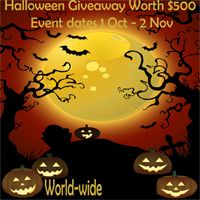 Halloween – never been so great ever before!
Giveaway $500 Paypal Cash – World-wide 1 Lucky Winner
They are looking for 200 signups – which means you will be getting traffic 
from those 200 blogs and pages when you host a Facebook or Twitter. 
Cash giveaways will get you a ton of followers!