Give your Talents the Free
dom  to rise above and Soar!
So this is how it goes, as Evelyn writes:
Link up your awesome posts such as Recipes, Tutorials, Inspirational and Creative Writing, Photos, Crafts, Needlework, DIY and  even Giveaways.
Just about everything that is family friendly and and is not for sale is welcome. 
Please add a link to a specific post not the main page
 of your blog:)
Please link back to this party so you can share the fun 
with others ,just grab my button above and place on your post, link party page or somewhere on your blog.
I recommend that you would follow her.
And the most important, please visit as many others as possible and leave comments. Don't we all love visits from our friends and chatting with them:)
Every week she will pick some awesome posts and feature them. She pins a featured post and if you are featured you can grab her featured button for braggin rights:)
So be sure to visit her blog at 
My Turn For Us Blog
Bloggers Of Interest This Week!!!


This is our blog. This is where we share our crazy adventures of being newlyweds, an Air Force family, a Christian family, and a firefighting family. Oh, yeah, and we just welcomed our first Air Force Brat!!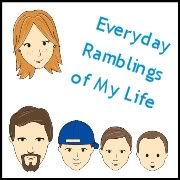 My blog features many different topics from my life, to reviews, and giveaways. I pride myself on making my blog a family affair and involving my handsome guys…

PR Friendly, Stay-at-Home-Mom Blogger! Sharing Freebies, Frugal Deals, Tips & Ideas, Product &Business Reviews and GIVEAWAYS!
We are a great family of three (four if you count our puppy). We love life and hope that by reading our blog you will get ideas on how to improve your own life