Were Happy To Have You Join Us and look forward seeing what you have to share, but first please take a minute and check out the Friday Features!!
Make new friends, but keep the old;
Those are silver, these are gold.
New-made friendships, like new wine,
Age will mellow and refine.
Friendships that have stood the test –
Time and change – are surely best;
Brow may wrinkle, hair grow gray,
Friendship never knows decay.
For 'mid old friends, tried and true,
Once more we our youth renew.
But old friends, alas! may die,
New friends must their place supply.
Cherish friendship in your breast-
New is good, but old is best;
Make new friends, but keep the old;
Those are silver, these are gold.
Joseph Parry
And if you were featured you can grab!

Summer is here, and that means the kids are out of school and looking for something to do. This can make for a YIKES! moment when it comes to summer planning. What you need are some brilliant ideas for kids activities.
Click The Pic To Pin

LuAnn Designs a nautical summer in the family room was easy with just a few beach elements. Some of the items include shells, starfish, sailboats and mini glass buoys.
 The best kind of makeover. Solid. No repairs needed.




There's something about red accents outdoors… it's so attractive. Weathered wood and touches of red… flowers or shutters… a tractor…it doesn't matter what the calling card is because red just goes totally eye candy. It's catchy. Ask anyone caught speeding with a red vehicle.
Click The Pic To Pin
Redoit Yourself Inspirations // The Painted Red Chair

Mason jars have become a very hot commodity in the past few years…from weddings to recipes, mason jars are the latest and greatest in portioned gift ideas.. in my opinion, mason jars are the perfect vessel for delicious recipes that you can take anywhere, anytime.
Click The Pic To Pin
Creamy Honey Gold potatoes dressed with sour cream, cheddar cheese, green onions and bacon.
Click The Pic To Pin
Christina is a Peach Cobbler Kinda Girl But this is Ice Cream made at home in an Ice Cream Maker how good it would be!!
Click The Pic To Pin


If you love the chewy, fudgy edges of brownies, then you will love this Brownie Brittle. Packed full of walnuts & chocolate chips, a brownie lovers dream.
Click The Pic To Pin

 I am looking for bloggers that need a little boost in visits and interaction on their blog.
If you would be interested

in Co-Hosting Wordless Wednesdays then I would like You!!! Read More Here !!
~♥~ Please Also Follow Karren Oh My Heartsie Girl ~♥~
Pinterest
TWITTER | FACEBOOK | GOOGLE+ | BLOGLOVIN | INSTAGRAM


~♥~ We love all your links and want to see what you have to share, so Lets Party!!!  Help Me Grow The Party, Just Click To Tweet in the box below!! Thank you!!!  Click To Tweet⇓⇓⇓ Oh and Grab Our Friday Feature Banner or place a link back, The bloggers who follow this are more likely to be considered for features.


 And by the way my Wordless Wednesday that is featured on 8 blogs is still open!!!  Pop Over And Linkup To on Wordless Wednesday ///⇓
⇑Stop By And Linkup There Too Seen on 8 Blogs This Week !!!!⇑
Just a few Rules
~♥~ Only post 2 Links from per blog, thank you!
~♥~ When you leave a comment I will return the favor
~♥~ Sharing with your friends grows our party
Visit someone before "your" entry and make a new friend
Thanks For stopping by this week, hope you enjoy your weekend!  
More Friday Linkup Parties Here!!

I would not be a good hostess if I didnt ask,would like to know when the Party Starts
Take a Minute and Signup For
This Notification
Here are just a few Parties I Share With Weekly
Want Yours Listed, Leave me a comment, let me know!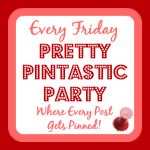 Friday Flash-Jenny Evolution
A Books and More Weekend Linkup
Fridays Blog Booster Party
Coffee and Conversation Linky Party
Play Party Pin
Fabulous Friday
Friendship Friday
Shabbyilicious Friday Link Party
Awesome Life Friday Link Party
The Charm of Home
The Jenny Evolution Friday Flash Party
Freedom Friday
Mommy On Demand
Shoe String Elegance
Frugal Friday Linkup Party
Weekend Recipe Linkup
Home Matter Linky Party
Rosilind Jukic WW
Weekend Wind own Party


*This post contains affiliate links and I will be compensated a little bit, if you make a purchase after clicking on my links. Thank you 🙂